Protests and clashes took place this Wednesday (28.12.2022) in the city of Santa Cruz after the arrest of the governor of the region of the same name and leader of the opposition, Luis Fernando Camacho, for the case of coup I, related to the coup status report of the 2019 Bolivian crisis.
Police arrested Camacho after noon as he was returning to his home and then transferred him from eastern Santa Cruz to La Paz in the western part of the country.
As soon as the police operation became known, several supporters of the governor of Santa Cruz and lawmakers from his party, Creemos, entered the runway and offices of the airports of Viru Viru and El Trompillo to prevent a plane from leaving and taking him in another region of the country.
However, some media outlets released the Viru Viru airport security camera footage showing Camacho being transferred to the side of the runway on a helicopter which eventually took him out of that location.
Subsequently, the demonstrations spread to the Santa Cruz Police Headquarters and the Departmental Attorney's Office. In the police headquarters there were clashes between security agents who responded with tear gas to groups of demonstrators who, for their part, set off firecrackers and tried to enter their offices. The worst occurred at the headquarters of the Santa Cruz prosecutor's office, which was set on fire, also affecting several vehicles.
In return, some people affiliated with the government gathered in the main square of Santa Cruz to "celebrate" Camacho's arrest, while the Minister of Public Works, Édgar Montaño, denounced an attack on his home in that city.
1/3 I publicly denounce that the Cruceñista Youth Union and the people for the purposes of #camacho they burned down my house #Santa Cruzthreatening the integrity and safety of my family. pic.twitter.com/bNlDy5ntew

— Edgar Montaño (@EMontanoRojas) December 29, 2022
While, in La Paz, a pro-government group marched on the Special Forces to Fight Crime (FELCC) – where the opposition governor was transferred – to demand justice for the victims of Sacaba in Cochabamba and Senkata in El Alto in 2019 in politics and social crisis after failed elections.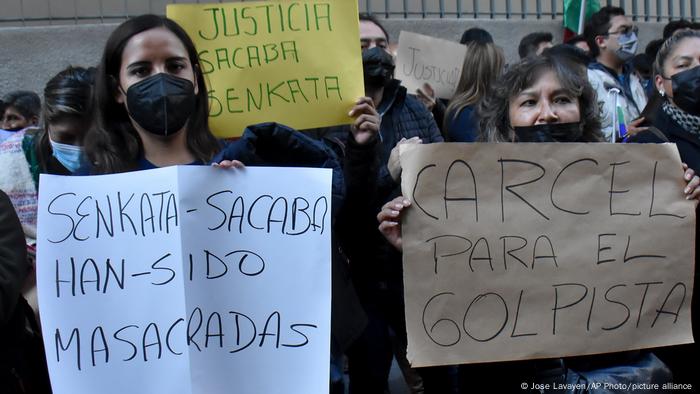 "There is no negotiation with spilled blood", "this is not revenge, this is justice", "Camacho to Chonchocoro prison", were some of the harangues that dozens of people shouted at the door as they awaited the arrival of the Governor of Santa Croce.
Coup I case occurred after the 2019 crisis terrorism offense was exposed after the failed presidential elections denounced as fraudulent and led to the resignation of Evo Morales, who denounced a "coup". against him.
Although Camacho was the main defendant in that case that began two years ago, only today the police made the arrest and his transfer to the city of La Paz, seat of the Executive and Parliament.
Follow us on